Discounted Carpets
Thu 07th March 2013 by Burts Carpets | posted in remnants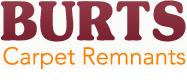 Here at Carpet Remnants Online we bring you the best discounted carpet roll ends all available to buy online.
We have over 1000 roll ends from all the leading suppliers such as Cormar, Asociated Weavers, Crucial Trading, Alternative Flooring, Kersaint Cobb, Westex, etc.
Choosing a carpet remnant could not be easier - you can select by colour, room type, price or size.  We really have made the selection process as easy as possible and with our next working day delivery it is fast too.