Bathroom Flooring
Thu 07th February 2013 by Burts Carpets | posted in vinyl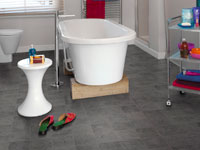 We have a great selection of bathroom flooring. From mosaic tiles to wood effect to black and white tile we have loads of designs and colours to choose from.
These vinyl floor coverings are authentic looking and soft to the touch. Most are ani slip and are ideal for use in bathrooms or toilets.
Our ranges start from an incredible £3.99/SqM so you are sure to be able to find a floor for your room.