Bathroom Flooring Ideas
Wed 01st May 2013 by Burts Carpets | posted in vinyl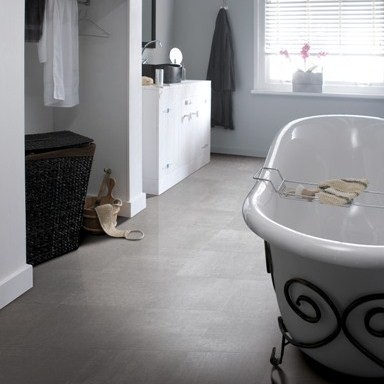 Vinyl flooring is the best choice for bathroom flooring. If you like the look of wood in bathrooms but are worried about the issues associated with having wood in wet areas or are thinking about putting natural stone flooring or ceramic tiles in your bathroom but are worried they will be too cold or hard underfoot a vinyl flooring is the best solution.
A vinyl floor is soft and warm under foot, easy to clean, compatible with underfloor heating and is easy to install, clean and maintain. It is an affordable covering that offers style, durability and performance. When installed correctly over a properly prepared subfloor it is resistant to dents, scratches and stains. Vinyl is easy to install as a DIY project and can be fitted using minimal tools such as a straight edge, scissors and a utility type knife. This type of flooring is also simple to clean and maintain.
Another quality of vinyl flooring is that it the modern technology allows it to closely resemble the look of other flooring types such as hardwood, stone and ceramics. The colours and textures that are utilised in the manufacture are so realistic people are often surprised when they learn that a vinyl flooring is not the real thing!
Vinyl (also known as lino) is very durable and this feature makes it a great kitchen flooring, bathroom flooring or even suitable for lounges and bedrooms. We have a huge selection of wood effects, stone effect, slate effect, etc. We also have a black and white tile flooring.