How to make small spaces appear much larger
Tue 19th March 2019 by Burts Carpets | posted in vinyl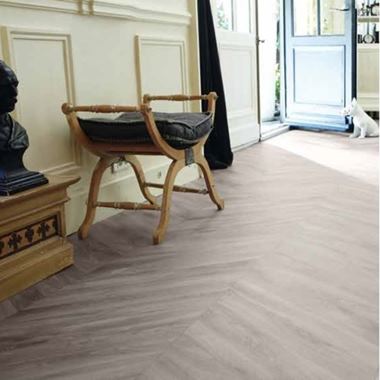 There are lots of tips and tricks out there to change your view of a space, making it appear to be much larger than it actually is. The use of light paint colours in the space, using mirrors or mirrored effect furniture to reflect the light are just a couple. However, one trick that is somewhat neglected compared to other techniques is the clever use of flooring in the space. New houses being built today are a lot smaller than any new homes being built in the 70's, so working with smaller spaces in your home is becoming a common dilemma for home owners.
The following are tips with the use of flooring to maximise the appearance of space within your room.
Using a light coloured floor such as DJ Plain White or Vintage White Wood for example, allows the light in the room to bounce around which is integral in a small space. The effect with just a simple flooring choice is a light and bright airy space.
Continuous same flooring If the space is linked with various smaller rooms it is a good idea to link them all using the same flooring throughout to give the illusion of one continuous space here are some examples to achieve this Authentic Beige Wood plank or Galerie Stone Effect
The use of laying floors in a parallel or diagonal pattern The way a flooring is installed can achieve a larger looking space and is very effective. The key to this is to lay flooring such as a wood plank parallel to the longest wall in the space and towards the direction of the source of light in the room such as a window giving the feel of being a spacious room. Another trick is to lay the flooring on a diagonal from one side to the opposite side of the room giving the appearance of the longest straight line in the room, hence tricking the brain into thinking the space is larger than it actually is! Examples to achieve these techniques could be Cottage Stone or Aspin Wood.
Pattern Size To create the illusion of a larger space avoidance of small pattern or many grout lines and instead look for wide floorboard pattern or plain which gives a consistent area of flooring with no grout or tile patterns. Try Uni Plain Vinyl Flooring or Argentina Wood to achieve this look.
Other simple techniques will help achieve a larger looking room, such as not over filling with bulky furniture and not covering the floor with a large rug which will interfere with the flow of the floor. A lot of attention is placed on the size of a space, but really small spaces are great for being creative with patterns etc as using it in a larger room may be too overpowering. So decorate with the things you love as it is your space that you live in!