How to prepare and install your Floor
Tue 10th September 2019 by Burts Carpets | posted in vinyl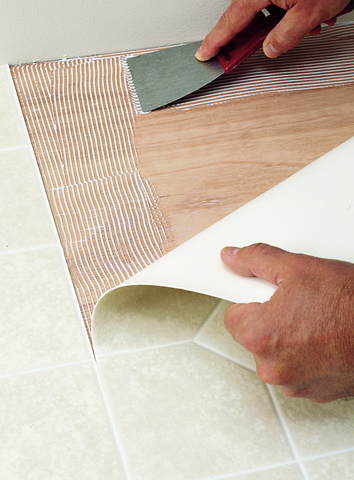 The key to a successful installation of a vinyl flooring is preparation. Once you have chosen your new design from our fabulous ranges, have carefully measured up and ordered it is vital that you make sure the installation is just right!
Many people will employ the specialist service of a proffessional floor layer to install their new vinyl flooring but conversley many will undertake the job as a DIY project. This should not be too daunting a task as there are many tricks to making the fitting as easy as possible including usng the old flooring as a template and simply cutting around it for a perfect fit!
The three key factors in successful sub-floor preparation are -
Sound - the concrete or wood needs to be solid and not crumbling or rotting.
Smooth - any imperfections in the sub-floor will show through to your new vinyl flooring so if the surface is not regular and smooth it should be prepared with either a 6mm plywood base if it is a wood floor or a minimum of a 3mm latex screed if it is a concrete floor (we have more guides available on these subjects)
Dry - Any flooring must be laid on a dry floor. Damp will effect vinyl and the relative humidity of the sub-floor should not exceed 75%
Adhesive - Vinyl Flooring is to be installed with the correct adhesive. Ensure that your fitter has assessed your requirements. Products such as Vinyl Spray Adhesive to Adhesive's to fully stick vinyl flooring can be found on our accessories page. Always avoid using general adhesive - this will lead to Plasticiser Migration.
Bubbling - If your new floor starts to stretch or "bubble" have it attended to as soon as possible. It is quite normal for the new flooring to stretch as it acclimatises to your home but if left for too long can cause a crease or permanent mark. Before agreeing to a price for fitting your vinyl flooring always ask the fitter the price for returning to what is commonly known as a 'Stretch'.
Qualifications - Always check your fitters qualifications and reviews.
Following these 6 key factors will ensure you have a great installation and a floor that will perform well even in the busiest household.