Is vinyl flooring suitable for use with underfloor heating.
Tue 02nd July 2013 by Burts Carpets | posted in vinyl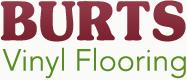 We are often asked if you can use our vinyl flooring over underfloor heating. The answer is yes you can but there are a few exceptions.
Vinyl flooring can be laid over most underfloor heating systems including "wet" or "dry" systems but this type of flooring can not be laid directly onto an electrical floor mat. The heating system must be installed within a sub floor such as a concrete sub-floor. Also, as always, the floor should be sound, dry and smooth before installation of any flooring.
For the installation of your new vinyl floor over an underfloor heating system a few basic pointers need to be followed.
The system should only be operated to a maximum of 28 degrees Celsius.
The system should be switched off for a minimum of 48 hours before installation.
Once installation is complete the underfloor heating should be slowly turned back to operating temperature in one degree increments over approximately one week.
If these basic pointers are followed you should have a great installation that will not only look great but also feel warm underfoot. So it does not matter if it is for a new bathroom flooring or kitchen flooring your feet do not have to be cold!