New Heavy Duty Vinyl Flooring Range
Mon 10th February 2014 by Burts Carpets | posted in vinyl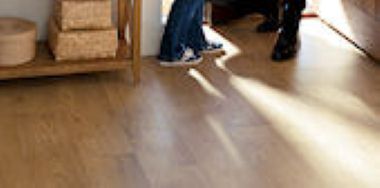 Polyflor are best known for their commercial vinyl flooring ranges such as Polysafe but they have recently launched a new range called Secura. This heavy duty vinyl flooring is the manufacturers first multi-width luxury vinyl sheet flooring range. Manufactured at the Teeside plant that was once the home of Rhinofloor and as such has long been recognised by retailers and consumers as producing the highest quality printed vinyl flooring the Secura collection has been developed to enhance interiors with designs that reflect the natural beauty of wood, stone and stylish abstract finishes.
The specification is fantastic. It is available in 26 colours, is nade in 2, 3 or 4 metre widths and has an industry leading 0.35mm wear layer as well as being rated R10 slip resistant. this top level specification means it suitable for both heavy domestic and light commercial applications.

Secura can be loose laid in almost all domestic locations and will out perform other ranges due to its top specification. The loose lay option also means reduced installation time and significant cost savings. You can order this fantastic flooring online.