Vinyl flooring for Kitchens
Tue 24th September 2013 by Burts Carpets | posted in vinyl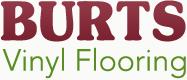 We believe that vinyl flooring is the best choice when it comes to choosing a kicthen flooring. Not only is this an attractive floor covering it is also super practical and very cost effective.
Vinyl is the easiest flooring to maintain. It basically just wipes clean when dealt with any normal household spillage. Cleaning is done by standard household products and it can even be hoovered with a suitable machine with a "hard floor" setting.
Designs and textures of vinyl flooring has improved tremendously - it is no longer a cheap plastic lookin flooring. Many people use vinyl for their kitchen flooring and have comments that people believe it is either real wood or tile. The choice is huge and does not come with the problems associated with laminate floors, real wood or ceramic tiles.
When it comes to price we can not be beaten - we have the best selection at the lowest online prices. Give us a try!