Crucial Trading
Sun 07th October 2012 by Burts Carpets | posted in carpets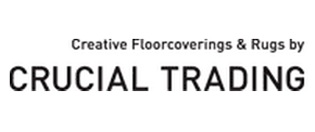 Crucial Trading have been the market leaders in creative flooring for the past decade or so. We are please to announce that we will be able to bring you the full range of this designer flooring and available to buy online.
With our expertise and Crucial Trading's fabulous range you will be able to add that designer element into your own home.
With the market leaders with ranges such as Mississippi Stripe, Audrey, Chunky, Popcorn, etc there is something to match the most contemporary home to a classic Edwardian house.