The Cheapest Vinyl Flooring Online
Thu 31st January 2013 by Burts Carpets | posted in vinyl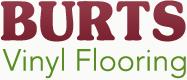 At the Vinyl Flooring Shop we think we have the competition beaten! We have a great selection that is only £3.99/SqM. We do not know of any shop or online website who can beat our cheap vinyl flooring prices.
We have leading manufacturers from £5.99/SqM including Rhinofloor and other household names.
Vinyl floors that are also known as lino are ideal for bathrooms and kitchens but are becoming more popular for use all over the home including lounges, hallways, dining rooms, etc. This type of floor is hard wearing and easy to clean.
Modern vinyls are also very attractive in design - many are indistinguishable from the floor they are mimicking such as wood or stone. Many customers tell us that friends can not believe how realistic their new floor is.